As a Franc customer, you have 2 funds to choose from. Our cash fund is best for short term goals (risk free with an inflation beating return) and we suggest equity exposure (shares in companies) for longer term investments. The equity fund we have chosen for you is the Satrix 40 ETF, an index tracker fund that effectively allows you to invest in the largest 40 companies on the JSE at once. The price of the STX 40 ETF as at 30 September 2020 was R50.73 and it was R54.60 as at 31 December 2020, increasing by 7.63%. This is a reasonably large move over a 3 month period - let's look into some of what happened.
Investment risk recap
In this article we discussed investment risk and the fact that almost all investments carry risk (their price can go up and down) and that higher risk investments should have higher potential returns to compensate you for taking risk. Similarly lower risk investments will have lower potential returns. What you can do to mitigate investment risk is invest for the long term and diversify your investments.
So what happened then?
Naspers makes up around 20% of the STX 40 ETF but was only up around 2% for the quarter. However certain sectors (platinum mining companies and banks) were big winners and one particular one (gold mining companies) was a big loser over the quarter.
Winners
Platinum mining stocks performed very well in Q4 with Impala Platinum, Sibanye and Anglo Platinum going up 39%, 30% and 24% respectively over the quarter. One of the reasons for this surge was that the price of rhodium, which is a platinum group metal (meaning it is typically found in the same mineral deposit, so is mined together with platinum), shot up in Q4 given forecast supply shortages. Both rhodium and platinum are used in vehicle catalytic converters  in order to clean the emissions coming out of car exhausts.
Capitec, ABSA and Nedbank were up 38%, 34% and 28% respectively over the quarter. Many banking shares took a pummeling over much of 2020. Some of the reasons this happened is that generally speaking, as interest rates fall (as they did dramatically in 2020), banks make less money. Also many people and businesses were unable to pay back loans to banks given the impact of Covid-19 which means these banks' bad debts would probably have increased compared to previous years. However in Q4, investors saw value in bank shares again which drove their prices up.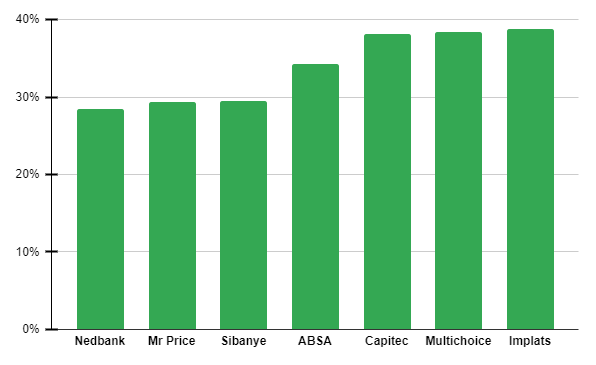 Losers
Only 7 of the shares in the STX 40 ETF fell in value over the quarter, with 3 of these being gold mining shares. Goldfields and Harmony were up strongly in Q3 but in Q4 were down 32% and 20% respectively. Anglo Gold Ashanti joined them and was down 21% in Q4. Some gold mining shares rallied strongly in Q2 and Q3 on the back of global uncertainty linked to Brexit and the outcome of the US elections which thankfully have now been completed with a new president about to take over. Gold has always been a "safe haven" - money tends to go into gold in times of uncertainty.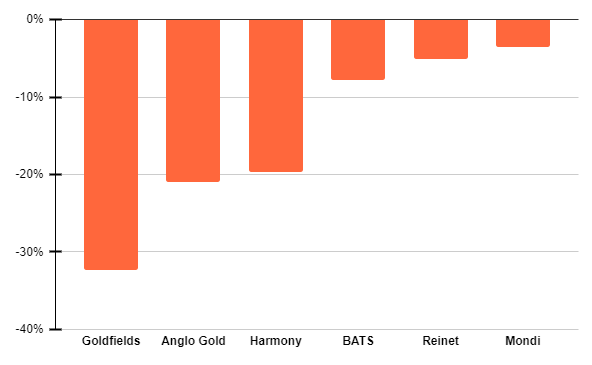 In spite of what has happened over the past 10 months or so, world equity markets are at or close to all time highs, including in SA. Just remember that investing is all about consistency and time - don't be depressed if prices go down suddenly, but also don't get too excited if they go up! Just keep going and you will reap your reward.