We've all heard and read a lot about Coronavirus over the past few weeks, especially now that there are some South Africans that are infected. It is scaring many people, you just need to watch some of the videos that have gone viral about people fighting over toilet paper! The full impact of the pandemic (everywhere and out of control) is yet to be seen but there is no doubt that it is having a tangible impact on many people's lives. But what impact has it had on your investments and why?
The eventual impact of Coronavirus is unknown at the moment so markets can sometimes overreact to this uncertainty. But what is definite is that fewer people are travelling for work or vacation, fewer people are going out to restaurants, fewer people are driving or taking public transport which all means that people are spending less money than they would normally. This reduction in spending means that many businesses (besides those making toilet paper, face masks and sanitisers!) will be making less money. A company's share price generally goes up or down depending on earnings expectations so if it is likely to earn less than expected, its share price will most likely drop. This reduction in consumer spending is one of the reasons (together with the uncertainty mentioned) that the stock markets have fallen over the last few weeks. In order to stimulate consumer spending, some countries have cut interest rates. We will know next week whether South Africa will follow suit.
Another indirect result of the impact of Coronavirus has seen the oil price drop dramatically. As mentioned above, fewer people are travelling and spending which has contributed to oil consumption reducing. The oil price is determined by supply and demand dynamics, if demand reduces then the price will drop all things being equal.  If supply dropped as well the oil price could remain steady, however the countries which produce oil couldn't  agree to reduce production (supply) to keep the price stable, instead they decided to increase production which lowered the price drastically! Lower oil prices are normally good news for consumers but this type of irrational behaviour spooked the market. Sasol, once a darling of the local stock market has been heaviest hit out of the locally listed companies. It has lost more than 80% of its value over the last month due to both company underperformance and the reduction in the oil price.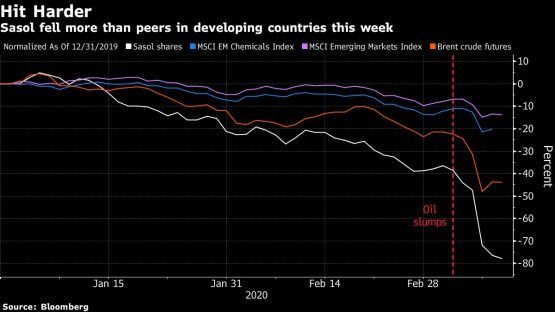 Investing in the equity markets is for the long term, these types of market shocks will often occur whilst you are invested. The important thing is to not let it distract you from your long term goal. Many people get uneasy and sell whilst the market is down and then miss out when the market recovers. It is important to be patient. If anything, investing more now could reduce the average cost of your investment. That said, time in the market is more important than trying to time the market because nobody knows when it will stop falling. But history is on your side, over the last 20 years you had approximately an 80% chance of earning 10% per year investing in the South African equity market  provided you invested for at least 5 years. The probability increased to around 90% if you invested for at least 7 years! Stay the course and the returns will come.